FOR IMMEDIATE RELEASE
CONTACT:
Patricia Corkum, Marketing Manager
978-536-2273 • pcorkum@jeol.com • www.jeolusa.com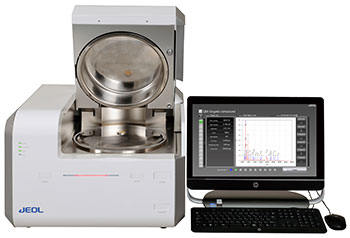 October 7, 2014 (Peabody, MA) — JEOL has introduced an easy-to-use, smart solution for high-sensitivity elemental analysis in a new benchtop EDXRF spectrometer. The JSX-1000S ElementEye analyzes major to trace components on most sample types – solids, powders, and liquids – with little or no sample preparation.
The ElementEye complements SEM, EPMA, NMR, and mass spectrometry analyses, providing high-sensitivity qualitative and quantitative analysis results in minutes. A Thin Film FP method is optionally available for non-destructive measurement of film thickness on coated samples.
High-sensitivity analysis can be performed across the entire energy range using a maximum of 9 types of filters and a sample chamber vacuum unit. Features of the ElementEye include an optional 12-position auto sample changer; touch screen operation; pre-recorded recipes for standard solution applications – RoHS, Metals (Air/Vacuum*), Oxides (Air/Vacuum*), Organic Materials (Air/Vacuum*) – high-sensitivity SDD and short-path optical system for high throughput analysis; and residual balance and thickness correction for organic samples.
# # #
JEOL USA, Inc.
JEOL is a world leader in electron optical equipment and instrumentation for high-end scientific and industrial research and development. Core product groups include electron microscopes (SEMs and TEMs), instruments for the semiconductor industry (electron beam lithography and a series of defect review and inspection tools), and analytical instruments including mass spectrometers, NMRs and ESRs.
JEOL USA, Inc., is a wholly owned subsidiary of JEOL, Ltd., Japan, was incorporated in the United States in 1962. The company has 13 regional service centers that offer unlimited emergency service and support in the U.S.
For more information about JEOL USA, Inc. or any JEOL products, visit www.jeolusa.com, or call 978-535-5900.
http://www.jeolusa.com/NEWS-EVENTS/Press-Releases/ID/312/JEOL-Announces-New-EDXRF-for-Wide-Range-of-Sample-Types